VAT is applied locally to all destinations in the European Union, United Kingdom and the USA.
In many countries, shipments are made as DDP (Delivery Duty Paid), where all the applicable import and customs fees are included in the final product price.

Products are shipped as DDP in the following countries: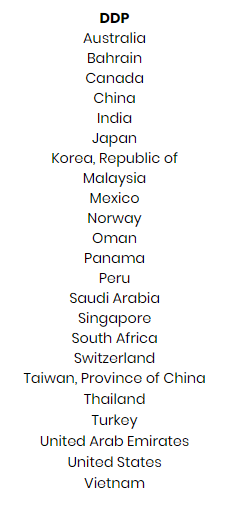 All other countries are to be considered DDU (Delivery Duty Unpaid) destinations: the price of the products does not include taxes and VAT. All import taxes, customs fees, and local taxes imposed by the sender's country must be borne by the recipient. These fees will need to be paid so as to exempt the order from customs charges.

We are unable to estimate how much tax and duty you will need to pay, so please check this before placing an order. The shipping costs are already included in the final order total. In any case, the courier can provide you with a separate invoice with the local taxes to be paid.

The Russian Federation is a DDU (Delivered Duty Unpaid) destination. For more information on its customs policies, please consult the official site of the Federal Customs Service of Russia here.
PLEASE NOTE:
Any items shipped to China that are intended for personal use and whose value exceeds 1000 RMB, are subject to a formal customs clearance procedure. Additional taxes or fees may apply.

For more information, see also: "Are there any shipping restrictions?"